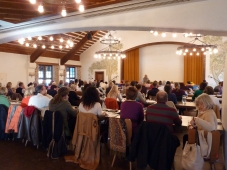 Become a Qi-Mag Feng Shui consultant according to the approved methods of the renowned Feng Shui Grand Master and health expert Dr. Jes T.Y. Lim! This course follows the Qi-Mag Institute's international curriculum, comprising the proved and tested theories and methods of the most important classical Feng Shui schools. The training includes two course modules of eight days each.
During the consultant training 1 Dr. Lim will go intensely into the Eight Life areas as well as the East-West System. In the process you will also get to know the importance of landscape in Feng Shui and learn how to interpret it. In his role as Grand Master, Dr. Lim will initiate you soundly into a deep understanding of energetic interrelations during which your awareness of unknown and invisible energy fields will be sharpened. It is extremely important for Dr. Lim, in our modern days to not solely use the principles of traditional Feng Shui – originating from a time when there was no such thing as radiation exposure or when the magnetic fields were not as dense as they are today. Thus he will also address in detail the topic of how one can effectively protect ones environment from modern radiation and contamination and how to put the energies straight again.
In the western world we are also confronted with the challenge that our buildings are hardly ever constructed according to Feng Shui principles; and even if we wanted to follow them, sometimes the strict requirements of our building authorities pose a hindrance. Since decades Dr. Lim has been gathering experience and knows many valuable tricks and ways how to iseffectively use the Feng Shui principles in already existing buildings – and this without doing mere Feng Shui cosmetic or having to tear the whole house down. This fantastic knowledge and wisdom is what Dr. Lim will convey in the first module of the consultant course.
A further emphasis of consultant training 1 is laid on finding out the historical energies belonging to a building or piece of land. Because our earth is vibrating in an ever-higher frequency, more and more unknown and dormant parts are released, not only in ourselves but also in the earth. Every square meter of Europe has experienced much history and often our earth was drenched in blood. These ancient energies need to be liberated with love and thankfulness, thus enabling the new inhabitants to enjoy their good Feng Shui without turbulences. In a caring way Jes Lim makes the trainees more sensitive to these circumstances and demonstrates the options to transform possible energetic burdens.
Course contents are among others:
In-depth teachings on the harmony of Yin & Yang
The principles of Qi flow and optimal oxygen level in rooms and buildings
Initiation into the energetic principles of roofs, rooms, buildings, and plots of land and according measures
How different forms/structures of buildings effect our health and performance
Conveyance of the doctrines of symbols and colours and their energetic effect
Theory and practice of Feng Shui according to the Seven Levels in our surroundings
Positive and negative shapes of land and according interpretations
Positioning a house and the use of the East-West System
Finding the heart centre of a house
Details on the Eight-Life areas and their deeper meaning
Immersion in the Five-Elements doctrines and according remedies
Explanations on the Nine Mingtangs for great wealth
Clever arrangement of furniture according to Feng Shui
Identifying geopathic stress zones and their energetic characteristics
How to avoid electric and electromagnetic stress zones
Plants which affect our health
Grand Master's secrets on how to enhance the inhabitant's happiness and wealth
This course is an intense training programme conveying knowledge on many levels; it contains ancient wisdom of the basic energetic principles of buildings and plots of land with which Feng Shui consultations can be given in a conscientious and effective way. The training to become a Feng Shui consultant can be a meaningful enhancement of your existing profession or a complete new start. The knowledge around Feng Shui opens doors where there were no doors before.
In the evenings you have the opportunity to participate in optional group work - using your freshly won knowledge on your own house plans. In the mornings there is time to ask any resulting questions. During breaks Jes Lim is available for your personal questions. Dr. Lim teaches in English with German translation. The course takes place from 9.30 a.m. to 1 p.m. and from 2.30 p.m. to 6 p.m., each with a 30 minutes coffee break. The evenings are reserved for optional group work.
Certificate:
You will receive the certificate as a qualified Qi-Mag Feng Shui consultant after completing the 16-day intensive training including Qi-Mag Feng Shui Consultant course 2 and a short exam carried out by Grand Master Dr. Lim.