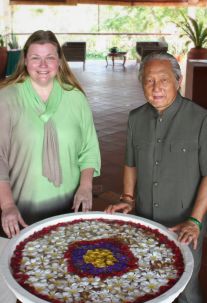 Bettina Ryzenberg-Czajkowski was born in 1964, in the Allgäu-Region in Germany, and lives happily with her husband and her dog in Karlstein on the Main.
After 17 years of retail sales, a high-level Management training and very successfully working as Marketing- and Publicity Manager for big trade branches and several subsidiary companies of the Metro Group, the bc.consult for strategic consultation and creative solutions was founded in 2004 of its own volition. Since then, the daily routine includes dealing with retail and whole sale, as much as working with customers from the industry and service sector.
Bettina Ryzenberg-Czajkowski also coaches managers and small-scale enterprises with a big potential, in order to help good ideas become successful businesses. Furthermore, she gives 'Business-Power'-Seminars for business start-ups and, particularly favoured, for doctors, healers and therapists.
Originally meant for balancing her daily economical routine, aspects like Feng Shui and Tao Geomancy have become essential parts of her every day life. Combining these different disciplines into an harmonic and powerful ensemble, is a challenge that gives her great pleasure.
Since 2009, Bettina Ryzenberg-Czajkowski is manager of the BJ Vital Energi Harmo Nik GmbH, which was founded together with Dr. Jes T.Y. Lim and is still in development. A whole sale enterprise that has set the goal to make information and products of highly positive energy available to many people.
In the Seminar Tao Women Empowerment in 2012, the Grand Master Dr. Jes T.Y. Lim and Bettina Ryzenberg-Czajkowski are appearing together as referee-duo.